Markilux Syncra 2 Fix Overview
The Markilux Syncra 2 Fix is a freestanding butterfly awning frame system to support Markilux patio or Pergola awnings.
Provide protection from the sun and rain where a wall mounted solution is not viable or a larger coverage is required.
With Pergola awnings rated to wind resistance class 3 (corresponds to Beaufort 5 = up to 24mph). With patio awnings rated to wind resistance class 2 (corresponds to Beaufort 5 = up to 24mph).
Uno version available for a single awning.
Installed with simple fixture of awning stand to a concrete foundation.
Compatible with the full range of Markilux retractable patio awnings.
Framework can also be used with patio awnings utilising stylish stabilisation boxes – see Markilux Syncra 2 Flex.
Design Features
Sturdy, freestanding awning frame system in a contemporary design.Rounded support posts reflect the design style of the Markilux folding-arm awnings.The appearance of the Markilux Syncra 2 Fix harmonises perfectly with the design of the various awning models.A post-free area under the awning for maximum usable space.An elegant, freestanding awning support system resting on slender posts with unobtrusive lateral guide tracks (Pergola variant).Protection from the sun and rain in open spaces (water drainage guaranteed by the 15° pitch, at which the folding-arm awnings are permanently set).Designed and engineered in Germany.
Technical Features
Freestanding awning frame system with two round support posts for Markilux folding-arm patio awnings (in the case of the Markilux Syncra 2 Fix, two awnings, in the case of the Markilux Syncra 2 Uno fix, one awning).Independent use of the individual awnings.Simple fixture of the awning stand to a concrete foundation.Well suited to properties to which it is technically difficult to fit an awning (uneven façade) or even impossible (substrate inadequate).Especially large extensions provide generous shade with high wind stability (wind resistance Class 3) – Pergola variant.Includes top coverboard.
Optional Features
Polyester powder coating in non-standard colours is available to order (prices on request, longer lead time required).Folding arm patio awnings are optionally available with hard-wired or radio-controlled motor with Markilux remote control.The standard specification of the Markilux Pergola 110 / 210 is with hard-wired motor, with radio-controlled motor and Markilux remote control available as an option.NOTE: Please refer to individual awning model descriptions and associated accessories for further details or contact us to discuss bespoke options.
Markilux Syncra 2 Fix Overview
Markilux Syncra Fix
Creating a butterfly effect with Markilux patio awnings to cover larger areas with concrete foundations for added support.
Markilux Syncra Pergola
For covering larger areas the Markilux Syncra Pergola is installed with additional posts at the front for added stability. Option available for adding the Markilux 620 or Markilux 776 / 876 vertical awnings for added privacy.
Markilux Syncra Uno
For areas where there is a lack of fixing points the Markilux Syncra Uno frame helps create a stable base for a single patio awning.
Fabric Options
Markilux patio awnings use high tech water resistant and self cleaning fabrics woven in Germany. Most have achieved the highest possible solar protection factor for textiles (UPF 50+) in independent tests by the Hohenstein Institute.With over 250 colours and patterns available, from the modern Visutex collection to the timeless Classics range, there is a fabric for everyone. Most patio awning fabrics are classified as either Sunsilk, which is a single woven fabric providing a silky smooth finish and brilliant luminosity, or Sunvas, which is double woven to deliver a softer luminosity. For additional water and fire protection the Sunsilk or Sunvas Perla are available for a 5% surcharge on the awning price.Click here to see the full range of Markilux fabrics and patterns.
Frame Colours
The below frame colours are available at no extra cost. Together with the vast range of fabric patterns on offer, they offer an almost endless choice of finishes for every awning.If you have something else in mind, it is possible to powder coat your awning any RAL colour (surcharge applies). This gives you the flexibility to match existing features on your home or, for commercial awnings, reinforce brand colours.
Traffic White

Metallic Aluminium

Stone Grey Aluminium
Grey Brown
Markilux Syncra 2 Fix Options & Accessories
Markilux offer a wide range of options and accessories to add the perfect finishing touch to your awning installation. The below products are suitable for the Markilux Syncra 2 Fix – click here for more information.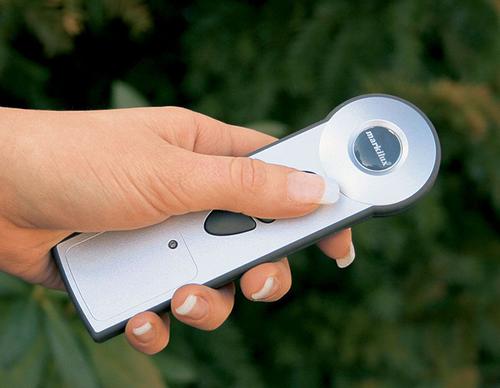 Remote Control
Soliris Sun and Wind Sensor
Infrared Heater
Spotline LED Lighting Bar
Hotspot Heating & Lighting Bar
Why choose Markilux and Roché?
Markilux products combine years of experience and expertise in the design and manufacture of awning frames and fabrics. Roché has worked with Markilux for the last 20 years, and over this time we have learnt that no wall mounted retractable patio awning lasts longer, with customers enjoying years and years of hassle-free usage.
Safety
Markilux are audited by independent bodies which document their commitment to quality. All awnings are CE marked and have been tested according to the European Standard EN 13561, at wind speeds up to and including Beaufort 5.
Innovation
By setting the precedent in design, engineering and manufacture, Markilux is at the forefront of innovation. As a result their products anticipate the requirements of tomorrow and meet them today.
Dynamics
At Roché we offer the latest Markilux product designs. Customers can depend on us for the most recent technological advancements, whether it's an upgrade for an existing installation or a completely new awning.
Functionality
All awnings are manufactured from the best quality materials, ensuring problem-free operation for many years. Whether an electric or manual design, many find their awning couldn't be any easier to use.
Service
As a specialist Markilux dealer, our team are experts when it comes to the sale and installation of patio awnings. Markilux has supported Roché over many years with training and technical knowhow.
Design
Trend setting or classic, Markilux products are always timeless. Expert designers have created beauty in both the technological and the textile, and we work closely with them in the manufacture of each bespoke product.
Back to Freestanding Awnings
arrange a free survey
arrange a free survey